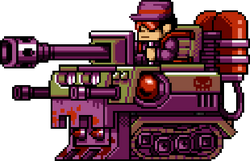 Element:
Neutral + Caustic
Strong vs:
Cryo/Incendiary -50%, Electric -20%
Info
A assault tank with hydralic cockpit lift. Damage can be dealt only directly to pilot or fuel tanks behind and has higher HP pool than the first Raid Rover.
Attack Modes
Moving towards player
Jumping
Shooting 2 small bullets and 1 Large
Moves to center, cockpit rises upwards and then shoots Leftside downwards / Down / Rightside downwards afterwards retracts back to ground.
Loot
C : Leaf Spring
U : Track Plate
R : Gun Catalyst
M : Gun Catalyst (Mission : Armored Guardians)
C= Common, U= Unlikely, R=Rare, M= Mission